Zero Waste Fashion Design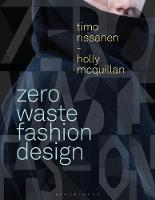 Autor:in: Timo Rissanen, Holly McQuillan
Verlag: Bloomsbury Academic
Written by two of the leading protagonists in the field … [This] is a well-illustrated, comprehensive and practical volume.
Zero Waste Fashion Design combines research and practice to introduce a crucial sustainable fashion design approach.
Written by two industry leading pioneers, Timo Rissanen and Holly McQuillan, the book offers flexible strategies and easy-to-master zero waste techniques to help you develop your own cutting edge fashion designs.
Sample flat patterns and more than 20 exercises will reinforce your understanding of the zero waste fashion design process. Beautifully illustrated interviews with high-profile, innovative designers, including Winifred Aldrich, Rickard Lindqvist and Yeohlee Teng, show the stunning garments produced by zero waste fashion design.
Featured topics include:
The criteria for zero waste fashion design
Manufacturing zero waste garments
Adapting existing designs for zero waste
Zero waste designing with digital technologies
Timo Rissanen is the Assistant Professor of Fashion Design and Sustainability at Parsons School of Design, The New School, in New York. Research on sustainability in fashion is inseparable from his design practice. Timo's PhD focused on zero waste fashion design.
Holly McQuillan is Senior Lecturer in Design at the College of Creative Arts at Massey University, New Zealand. Her research centres in the field of zero waste fashion design practice-led research. Her research articulates zero waste fashion design through exhibition and writing, and focuses on broad issues of sustainability and their links with risky design practice.